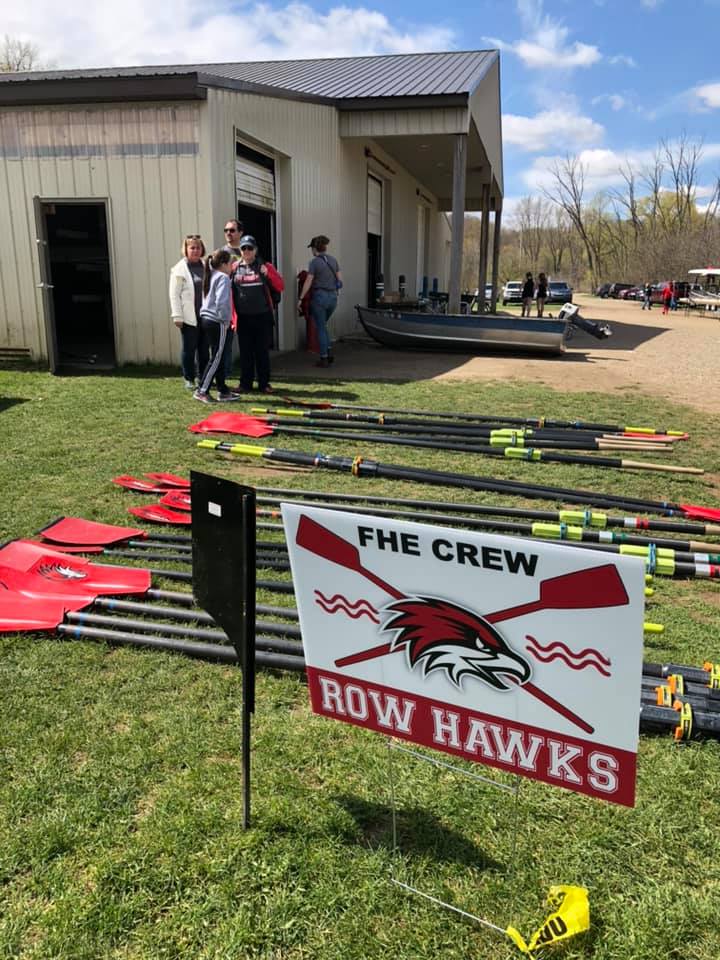 The Forest Hills Boathouse is located at: 8400 Grand River Drive, Ada, MI 49301
The boathouse measures 100′ x 54′ x 14′ and includes a 100′ x 10′ floating dock. The facility houses all the equipment and provides a home for the three Forest Hills High School rowing programs; Forest Hills Central, Eastern and Northern. The facility is used during the spring for the high school programs and during the summer and fall for off-season conditioning as well as adult learn-to-row programs and crew camps. Responsibilities for care and maintenance of the Boathouse is also shared.
Boathouse Rules for Drop-Off/Pick-Up and Parking:
ONLY COACHES AND CREW TRAILER PERMITTED TO PULL IN PAST THE BOATHOUSE PARKING LOT.
ROWERS MAY BE DROPPED OFF AT THE BOATHOUSE PARKING LOT
ON HIGH TRAFFIC DAYS, HANDICAPPED PERSONS MAY PARK AT BOATHOUSE, ALL OTHERS MUST GO TO ADA PARK AND WALK BACK
DO NOT PARK ON GRAND RIVER DRIVE – It is imperative that nobody parks on Grand River Drive, which is the main road before you get to the boathouse entrance. Cascade township has huge safety concerns regarding having cars parked on Grand River Drive.
If you're having problems getting to the boathouse please call the boathouse at 682-9286 and someone will help you. The boathouse is located at 8400 Grand River Drive, Ada MI 49301. The boathouse is located within McGraw Park.
Our Boats
Our boathouse houses 4 boats which hold 8 rowers, 6 "4's" and 1 "2x/-" . We are looking to upgrade some of these boats. If you know of anyone selling these sizes, let us know! Also, if you'd like to help us with our equipment goals by donating, please see our Sponsor page.
FOREST HILLS BOATHOUSE HISTORY:
The Forest Hills Boathouse was opened in April of 2002 and officially dedicated on September 24, 2002. The facility and docks were constructed during the winter of 2001/2002 with much help from the school district and many parent volunteers. The property that the boathouse sits on, nearly 3 acres, was donated by Mick McGraw of Eastbrook Homes. The rowing teams owe a great amount of gratitude to Mr. McGraw as well as Mr. Bob Kullgren. It was Mr. Kullgren who worked tirelessly to locate property for the teams. Bob was instrumental in clearing the way with the School District, Cascade Township, Rail America, the MDEQ and many others so that this outstanding facility could be realized. Without Bob's help, this facility would still only be a dream.