What is Rowing?
Rowing, sometimes referred to as crew in the United States, is a sport whose origins reach back to Ancient Egyptian times. … Modern rowing as a competitive sport can be traced to the early 17th century when races (regattas) were held between professional watermen on the River Thames in London, United Kingdom.
Rowing is the act of propelling a boat through the water with the use of oars. In a rowing shell the rower sits on a seat that moves both forward and backward. This enables the rower to bend and straighten his or her legs increasing the length of each row or "stroke" as we say. This makes the boat much more effective and faster than a regular rowboat. The rower basically rows using the oars to push the water in front of them causing them to go backwards. There are two different types of rowing, sweep and sculling. In sweep rowing each rower holds one oar with both hands, and is in a boat with 2, 4 or 8 other rowers. In sculling, each rower has two oars, one in each hand, and may row in a single, double or quad.
How Far We Go. There are two types of races with which most rowers are familiar. One is the sprint race, which takes place in the Spring to early part of Summer and is either 1000 meters or 2000 meters in length. The other is the Head race and usually ranges in distance from 2 to 3 miles.
Scull? Port? Starboard? Crab? If you're interested in learning more about the terms we use, where we sit, how we move, just check out these ROWING TERMINOLOGY AND MECHANICS
Where & When We Train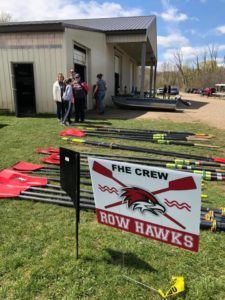 After the dock comes out of the water at our Boathouse, we begin Winter Conditioning by training on rowing machines at FHE High School Fitness Center through early Spring. As the weather warms, the dock goes in and we move over to the FHPS Boathouse for daily practices. We are on the water every day we can be, even in the rain. In rough weather, we hold practice back at FHE.
Practices are held from 4:30pm-6:30pm every Mon., Tues. Thurs.. and Fri. On Wednesdays, the Men train at 3:30pm and the Women at 4:30pm at FHE. Once we move to the Boathouse, we will have practice from 4:00pm – 6:30pm every day. Our crew teams must rig and de-rig their boats often, which takes up some of the practice time.
Middle School Crew at FHE
Students in grades 6th-8th grades and who plan to attend FHE may join us for Middle School Crew as part of our FHE High School Crew Club for:
Summer Season Camp and Meijer Summer Games (if ready)
Fall Season Practices, Regattas & Club events.
Winter Season Conditioning in Practices which is ongoing through March With approval, this is a great supplemental sport for those who also play in other sports
FHE CREW 2020 SPRING RECRUITMENT FLYER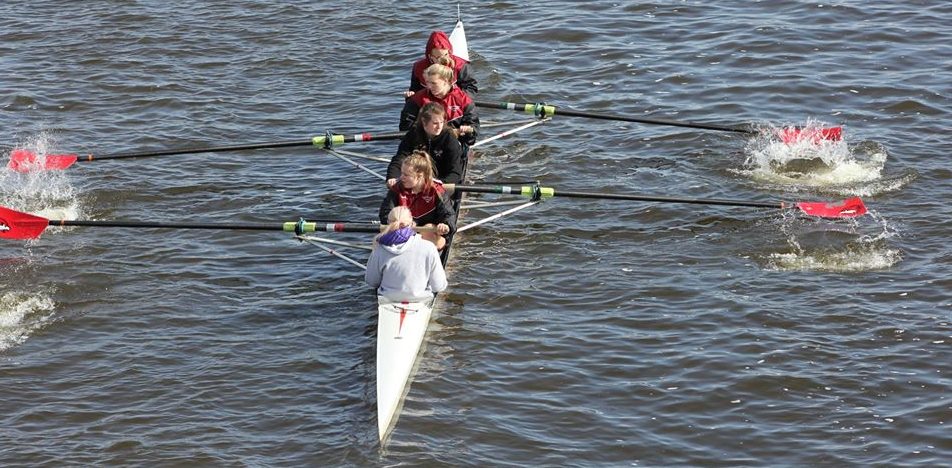 Beyond the Horizon-Rowing Scholarships in College
Interested in a rowing scholarship for college? There are many scholarship opportunities (especially for women) if you row crew in college, as not all high schools offer this sport. Once you are on FHE crew, and you decide you love it so much you can't imagine life without crew, think about the benefits of rowing while you pursue your undergraduate degree. If you think you would like to row in college, Let Coach Ben know as soon as you can about your interest. He will meet with you and your parents to recommend scholarship opportunities depending on your academic and geographic preferences. He is happy to provide this guidance for his rowers!
Check out what our FHE CREW ALUMNI are up to!