Registration for Fall is now closed
Fall 2022 Practice schedule
For returning experienced rowers:
– Monday August 15 through October 28.
– Monday – Thursday 4:00 to 6:00pm
– Friday @EHS: Girls 3:30-4:30pm, Boys 4:30-5:30pm
For High School Novice:
– Begins 8/30/2022
Middle School:
– Begins 9/6/2022
– Monday – Thursday 6:00 to 8:00pm
Fall 2022 Regatta Schedule: Tentative
– Our schedule is being developed still. We plan on having events on the following weekends
on how
to register
for the
Fall season
will be
available here

Information below is from previous seasons and is as a reference only. Any events for the 2022 season will be posted above as available.
Welcome to Fall Season! In the Fall, Crew operates as a Club, training, conditioning, racing and recruiting for Spring. It is a bit more relaxed, with scrimmages with other local rowing clubs, a Middle School trip to participate in the Leelanau Chase and the Fall FHE Crew Club competes in the Fall Classic Regatta. We end the season with a team bonding event. Last year, we had a blast at the Halloween Bash held at the Boathouse!
In a typical season, fees are reduced in the fall. It's a great time to check it out and see if this sport is for you! With our Michigan fall colors and crisp mornings you will surely enjoy being out on the water in the Fall and seeing what you can accomplish with good friends and teamwork!
Practices are typically held: Monday, Wednesdays and Thursdays from 6-8 pm at the Forest Hills Boathouse. ​In inclement weather, we train at the Eastern High School where we have ergs and other weight training and cardio equipment.
Regattas will be included in the season and the schedule will be posted on this website when available.
Your Fall Program fee includes a FHE Crew t-shirt (which will serve as your uniform), regatta entry fees and all equipment and coaching costs.
*No person will be excluded from membership because of financial need. Please contact our Treasurer to make confidential payment arrangements.
High School and Middle Schoolers who wish to row in the next year, please give Coach Ben a heads up and ask to complete a FHE Crew Interest Form so we can make sure you are in the loop!
Hawk Rally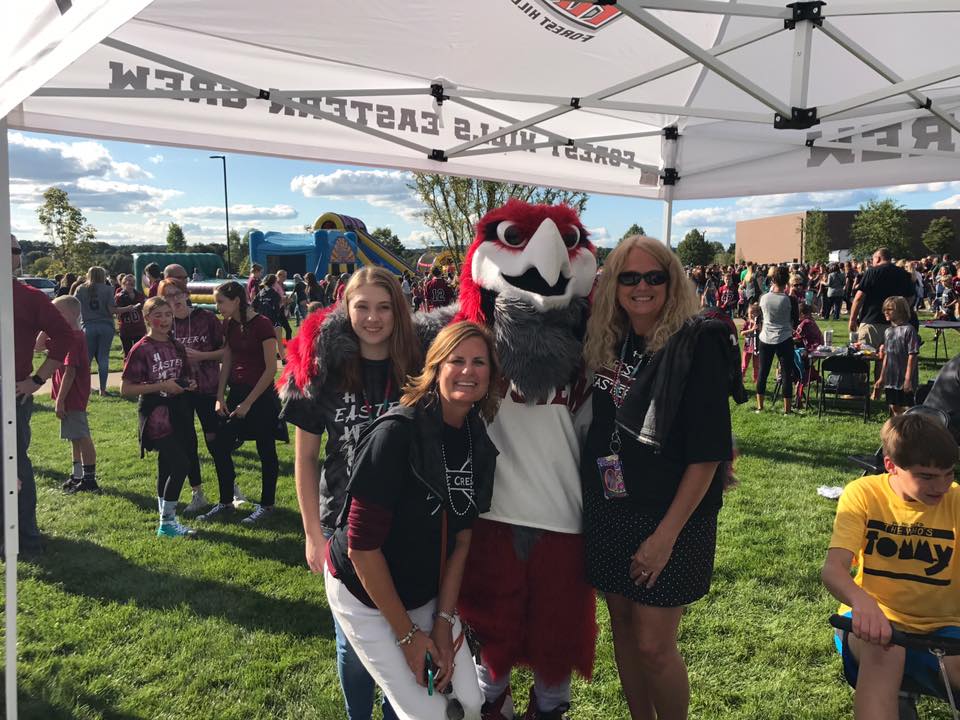 Want to try an erg (rowing machine) before you sign-up? Stop by the Crew tent at the Forest Hills Eastern Hawk Rally in the Fall or Winter. We have ergs set up and we will let you give it a try or race with one of your friends or someone on our crew! It's a great way to meet the team members, the coach and assistant coaches and ask any questions you may have about rowing on a team!
Any other questions, please contact: FHE Crew Board President, Stacey Ruter
​