Welcome to the 2023 Fall Rowing season!
This Fall we will again partner with Forest HIlls Northern Rowing to row as one team representing FHNE. FHNE Crew will participate in daily practices and competitive regattas. This exciting opportunity provides novice rowers a chance to get to know the sport and allows seasoned rowers a space to continue their training and prepare for Spring competition.
FHNE Fall Rowing 2023 At a Glance:
FHNE Head Coach:
Ben Norrix (norrixb@mail.gvsu.edu)

FHE Assistant Coaches:
Travis Stevens and Justin Stevens
Practice:
Practice will begin Monday August 14 4-6 pm for Varsity Athletes (Any 9-12th grade rowers with at least 1 season of rowing experience) This will be the weekly schedule M-F
Practice for Novice (Beginner rowers) will begin Monday August 21 4-6 pm. This will be the weekly schedule M-TH
Middle School (grades 6-8) will begin Monday August 21 6-8 pm. This will be the weekly schedule M-TH.
Regatta schedule
*subject to change by coaching staff
🎽 Racing tanks for all high school rowers and race day T-shirts for Middle School rowers will be handed out. Please look for these to come home with your rowers.
*This fall, these must be worn for regattas with black spandex bottoms. If it's cool enough to wear long sleeves with the race day shirts, please choose white shirts.
👋 Eastern Crew is excited to announce we have 2 new assistant coaches!
Welcome to Coach Travis Stevens and Coach Justin Stevens. They are both former FHE rowers and are very happy to be back and coaching our Hawks on the water. These brothers are a great addition to our coaching staff and we hope you will stop by the boathouse and say "hello!" or meet them at one of our fall regattas.
🙏The FHE Crew Boosters Board is seeking a fundraising chair
In this role we will welcome your ideas and input and your invaluable help in setting up the fundraising efforts for our team. Please consider this amazing volunteer opportunity that will do great things for our team!
If you are interested in this opportunity or have questions, please contact us at our crew email address: FHEasterncrew@gmail.com
FHE Crew Board Members:
President: Elana Hostetter (Eden's Mom)
Vice President : Jenny VanderBoon (Ava's Mom)
Treasurer:  Tricia Burkley (Zoe's Mom)
Secretary: Rebecca Andrusiak (Natalie's Mom) 

ROW HAWKS!
T
h
i
s

i
s
a
p
l
a
c
e
h
o
l
d
e
r

T
h
i
s

i
s
a
p
l
a
c
e
h
o
l
d
e
r
Registration
STEP 1.
NEW THIS FALL:
FHPS requires each High School athlete to register through Final Forms. (Not required of Middle School athletes). This process includes basic medical and health information, insurance information, and MUST include submission of the athlete's updated health physical (dated on or after 4/15/23).
This is a separate step required by the school and must be completed prior to registration with the club. Please contact the FHE Athletic Department with specific questions regarding this process.
*No Pay to Play Fee for Fall rowing through Final Forms. Club Dues only.
STEP 2.
Complete the FHE Rowing Club registration form below. This is a separate step from Final Forms and is required by the FHE Rowing Club to participate.
STEP 3.
Please submit payment for FHE Rowing Club FALL DUES:
Varsity: $300 (returning rower, grades 9-12 with a minimum of 1 season of rowing experience) Team racing tank shirt included.
Novice: $250 (New rower, grades 9-12) Team racing tank shirt included
Middle School: $150 (grades 6-8) Team racing T-Shirt included
*Varied dues based on practice schedule and number of competitions*
If you wish to pay by check please make the check payable to: FHE Crew and send it to Tricia Burkley, Treasurer at 6115 3 Mile Rd. NE Ada, MI 49301.
If you wish to pay online, please use the following link:
Payment is due by August 31.
STEP 4.
US Rowing Individual Membership is required annually for all rowers. The cost is $20 for athletes renewing their membership and $25 for new members.

To renew or join, please click on the link below. All rowers will register as individuals. Returning users, please login with your past username/password.
*Club Search: Forest Hills Eastern High School Crew
(US Rowing will prompt for additional services and donations. These are optional and not required.)
Please keep your unique login handy for future registrations or renewals.
USROWING Membership Renewal/Signup
on how
to register
Hawk Rally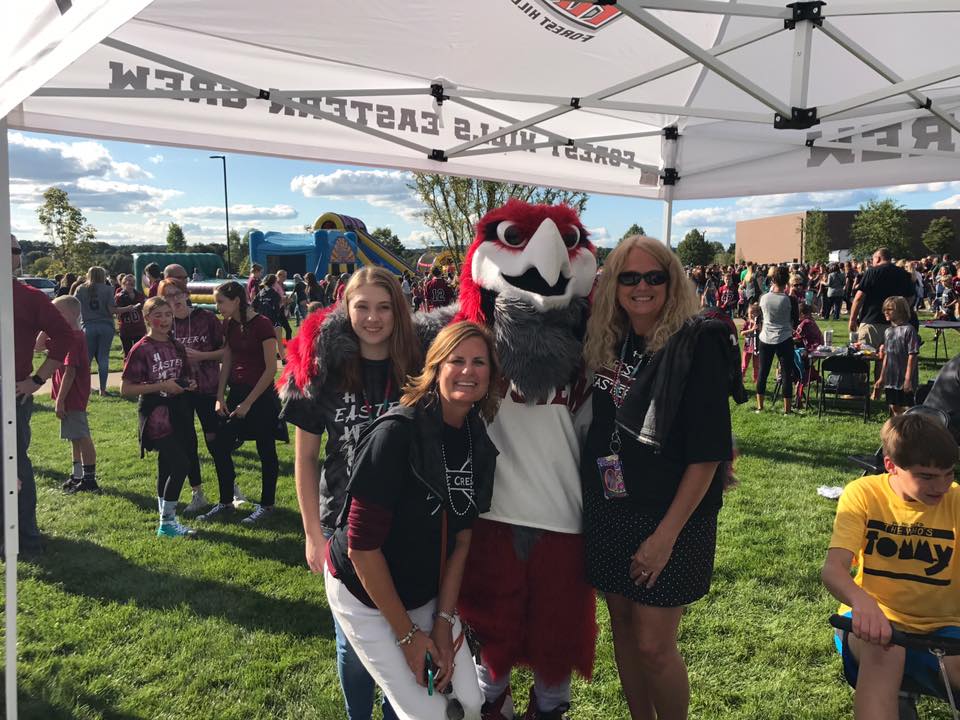 Want to try an erg (rowing machine) before you sign-up? Stop by the Crew tent at the Forest Hills Eastern Hawk Rally in the Fall or Winter. We have ergs set up and we will let you give it a try or race with one of your friends or someone on our crew! It's a great way to meet the team members, the coach and assistant coaches and ask any questions you may have about rowing on a team!
​