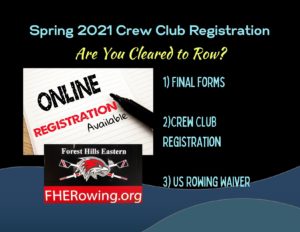 This is a friendly reminder to make sure your athlete is ready to row this Spring 2021.
All athletes MUST have the following:
Registered & Paid Final Forms

Registered & Paid Crew Club* (Still waiting for many)

Completed US Rowing Waiver

*This link takes you to the FHE CREW Parent Club updated letter that was sent on March 25, 2021 (it was sent through Final Forms.) It has important information about your athlete's registration paperwork, uniform requirements, and more. Please help the Crew Parent club by completing #'s 2 & 3 prior to Spring Break, dues payments can be made anytime up until the first regatta on April 17.