WYANDOTTE ROWING CLUB IN WYANDOTTE MICHIGAN
Saturday, May 15, 2021
Due to Covid, this will be a one day event Spring 2021.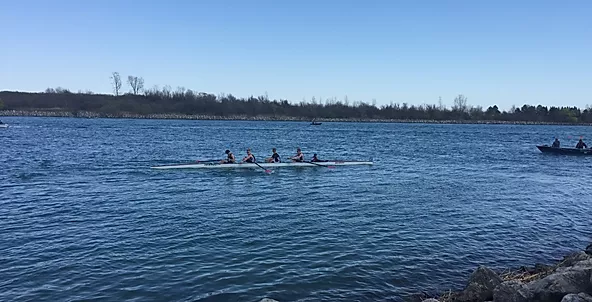 The 2021 Wy-Hi Regatta is scheduled for Saturday, May 15th in BASF Waterfront Park. This is an invitational scholastic event open to Mid-west and Ontario crews.
The Wy-Hi Regatta is located at Wyandotte Boat Club, 1 Pine St., Wyandotte, MI 48192.  If you are considering joining us, welcome and know it is a wonderful venue to watch rowing. For more information on the Wyandotte Boat Club, visit www.wyandotteboatclub.com
Rower Details:
Regatta Waiver – Please get this to Coach Ben or Coach Sam by Thursday's practice.

If you plan to stay Friday night at Wyandotte, please let Coach Ben know by Wednesday at 4pm.
Meet at WBC to unload boats at 5:30pm

Special notes
FHE is providing breakfast and lunch for athletes only. Please make sure to send additional healthy snacks and water bottles with your athlete.
Any athletes with special dietary requirements should plan to bring their own food.
Uniform: Should have new uniforms in time. If not, Black crew T-shirt from last week, black spandex shorts and extra socks
Athletes should dress in layers over uniform.
Bring a camp chair or blanket.
Saturday itinerary
3:45am – Report to High School
4:00am – Bus departs from the school
6:30am – Everybody arrives at WBC and begin unloading
7:00am – Lightweight Crew weigh-ins
(Bergen, Heath, Tyler S, Leo)
8:ooam – Racing begins

After regatta – De-rig and load boats
Those returning home on bus will be stopping for dinner, please send money with your athlete.
Estimated time of arrival back at High School will be around 6:30-7:00pm (confirmed via Final forms and text/call athlete).
Spectators
Parents and spectators please stay clear of the boats and athlete area.
Two Spectators per athlete, who we ask to follow social distancing guidelines and wear masks at WBC.
If you need to get ahold of your athlete please text or call them.
They will be able to send you their races before the regatta starts.