WYANDOTTE ROWING CLUB IN WYANDOTTE MICHIGAN
Saturday, May 15, 2021
Due to Covid, this may be a one day event Spring 2021. Please disregard the overnight details below until further notice.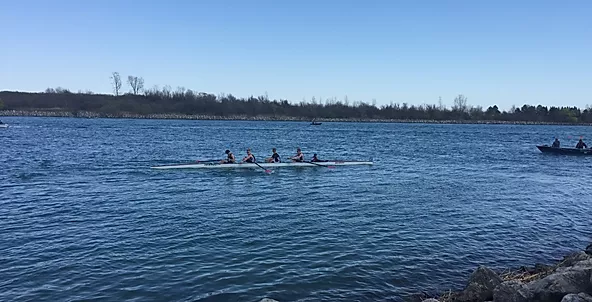 The 2020 Wy-Hi Regatta is scheduled for Saturday, May 2nd in BASF Waterfront Park. This is an invitational scholastic event open to Mid-west and Ontario crews.
The Wy-Hi Regatta is located at Wyandotte Boat Club, 1 Pine St., Wyandotte, MI 48192. If you are considering joining us, welcome and know it is a wonderful venue to watch rowing. This will be an overnight for the kids. For more information on the Wyandotte Boat Club, visit www.wyandotteboatclub.com
Rower Details:
Rowers need to bring:
overnight gear on the bus as well as their
uniform and essentials for Saturday
Regatta Waiver – MUST HAVE
Sleeping Bags
Pillow
Blanket
Air Mattress/pump (optional) There are limited plugs for blowing up the air mattresses but it sure makes for a more comfortable night!
Accommodations
The rowers spend the night at Roosevelt High School in the gym. (we have chaperones and boys and girls are kept separate)
Girls, please remember that the bathroom facilities are very much like at Eastern and there is VERY limited room for plugging in dryers, flatirons, etc. Prepare to be very natural.
Any questions, ask your captains!!
The team will also stop for dinner on the way to Wyandotte, and depending time, on the way home as well, so make sure the rowers have a little money with them.