STATE CHAMPIONSHIP REGATTA @ RIVERSIDE PARK IN GRAND RAPIDS, MI.
Sunday, May 23, 2021

7:30am: FHE Rowers are to be at Riverside Park located at 2001 Monroe Ave NE, Grand Rapids, MI 49505
Make sure your athlete as their:

FHE uniform
Dressed for the weather
Water bottle

7:30am – 9:00am Weigh-ins (Headquarters)
8:00am – Coach & Cox meeting (Headquarters)
9:30am First Race
On the day
The team tent will be set up similarly to how it was at GR Invites.
Parents will not allowed by the boats or team tent for any reason this weekend.
Masks are required for all of those in attendance (Students, Parents, Volunteers, Coaches)
Athletes may remove there masks once they are in the boat and pushed off from the dock.
The Scholastic Rowing Association of Michigan requires all athletes complete an online waiver to compete at the State Championship Regatta on May 23, 2021 at Riverside Park.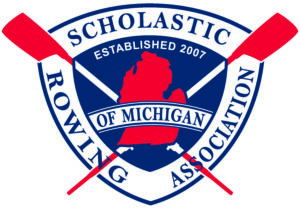 The information below is from the 2019 State Championship. It may not pertain to the 2021 regatta this weekend. This will be modified/deleted as more information becomes available.
NOTE: This is going to be a BIG race, parking is going to be tight!
ALL STUDENTS DRIVING THEMSELVES MUST PARK IN THE NORTH BALL FIELD LOT ACCESSED OFF MONROE NORTH OF THE ACTUAL RACE ENTRANCE. IF A STUDENT IS DRIVING, THEY WILL NOT BE ALLOWED INTO THE MAIN REGATTA SITE.
FRIDAY NIGHT SET-UP:
Please note that the park will be available for boat trailers and team tents from Friday 2:00pm until "Dark". City of Grand Rapids rules.
All team tents must be placed on the grass SOUTH of the entry road coming into the park. No tents can be placed north of the access bridge.
The gate will be locked at dark for the night. It will re-open the following morning at 6:15am for trailers & team tents.
General parking is being held until 6:30am.
---