Saturday, April 29, 2023
Riverside Park, 2001 Monroe Ave. NW, Grand Rapids, MI 49501.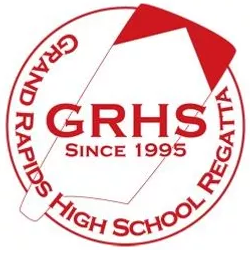 The 28th Annual Grand Rapids High School Invitational Regatta at Riverside Park, is a very comfortable and enjoyable regatta. Riverside is a nice venue with plenty of parking and a nice big spot for our team tents. This will be a much bigger regatta and you will get to see teams from all over the state.
Details below are from 2022 as a reference only. 2023 details will be posted as available.
Parking:
All athletes must use the North baseball diamond parking lot accessed off Monroe north of the access road.
For parents, you can find parking along the roads and in the neighborhood outside of the park.
Team Tent:
All athletes at our boats by 6:30am
We will have a tent set up near the boats for the athletes and coaches. This area is off limits to parents without prior permission.
We will have another tent set up along the race course for family and friends to gather at to support our team.
Athletes will be allowed to travel to the family area after they are done racing and at lunch time.
We do this because in the past, coaches and coxswains had to go searching for athletes because they were about to miss their race.
Heat Sheet and Lineups:
First race begins at 8:30am.
The heat sheet will be sent out once I have it from the regatta.
Lineups will be sent out the night before the event.
Miscellaneous:
We will provide athletes with lunch.
Please have kids pack water bottles and dress for chilly weather on the water.
Food vendors will be available.
Be sure to keep an eye on the weather and dress in layers. A backpack with a blanket, sun block, hat, extra snacks etc. and a camp chair is always a good idea.
Check out the line up at Regatta Central at https://www.regattacentral.com/regattas.