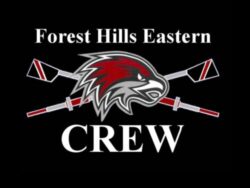 FHE Crew families – We have a very busy few weeks coming up to end the season and to pull it off we need help from each of you! Attached you will find a SignUp Genius for the volunteers we need for the remainder of the season. We need every family to fill at least one of these slots.
For the Midwest Regatta weekend – we are asking those parents that are staying at Camp Dearborn please take the volunteer spots for breakfast on Saturday & Sunday mornings as well as dinner on Saturday night. Camp Dearborn may have visitor restrictions or charges for those not staying at the campground so onsite volunteers would be best for those 3 meals and set up/clean up openings.
https://www.signupgenius.com/go/10C054AABAB22A13-fhecrew
The FHE Crew Boosters will be buying and transporting the food to these events but many hands are needed to prep, cook and clean up.  If you are not attending a particular event but want to help out, please consider signing up for a snack opening.  
If you have any questions, feel free to reach out to our board president, Stacey Ruter (staceyreedruter@gmail.com or (616-690-7333).
Thank you for your support!  Stay tuned for an email coming out soon about our end of year banquet.  Row Hawks!