Saturday, April 22, 2023
This Regatta is held at our Home….the Forest Hills Public Schools Boathouse, located at 8400 Grand River Drive, Ada MI 49301, within McGraw Park.
NO PARKING AT THE BOATHOUSE …. See important info. below.
7:30 AM: ALL ROWERS SHOULD BE AT THE BOATHOUSE
8:30 AM: COACHES AND COXSWAIN MEETING
9:00 AM FIRST RACE BEGINS
Athletes are expected to stay for the whole event unless given prior approval to leave only.
Parking
– FHN asks that you drop your athletes off at the boathouse gate and have them walk down the road to the boathouse.
– All parents are to park at Ada Elementary, 731 Ada Drive SE, Ada MI 49301.
– There will be a shuttle bus to take you from the elementary school to the boathouse. The shuttle begins operation at 6:45am and will run every 30 minutes.
– It is imperative that we keep the parking lot and surronding area free from trash.
– If you have a handicap permit, you will be allowed to park at the boathouse, just show your pass to the parking attendants.
– Please Do not park along Grand River Drive. You will get ticketed and towed. Parking at Ada Park is not encouraged.

This will be the smallest event we attend all year. The participants are Forest Hills Eastern, Forest Hills Northern and Wyandotte Roosevelt. The first race is scheduled for 9am and the last race is scheduled for 12:30pm. Events do tend to run long and due to cold weather, there could be a delay at the start of the day.
Races will run every 10 minutes and medals will be awarded for first place finishers.
If any parents have questions about the event or how things run, please feel free to reach out to Coach Norrix. He would love to go into further detail.
PLEASE DO NOT PARK ON GRAND RIVER DRIVE
THERE IS NO PARKING AT THE BOATHOUSE.
Race Course: Same as what we've had in the past. The course is about 1000 meters long and is four lanes wide. The course goes against the current and finishes at the Forest Hills Boathouse. There is a paved trail that follows the course.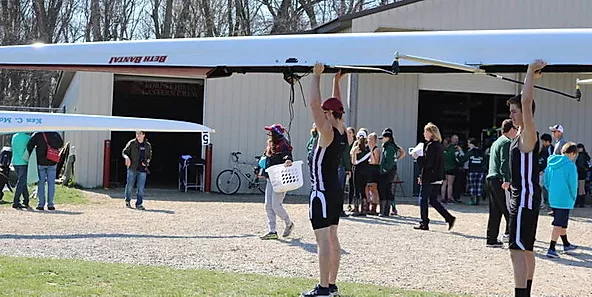 5 WAYS TO PARK:
We've come up with 5 different scenarios to get everyone safely to the boathouse and still allow us to stage the event: