Saturday & Sunday
May 13th/14th, 2023
(overnight, see details below)
Kensington Metropark, 4570 Huron River Pkwy,
Maple Beach, Milford, MI 48380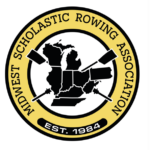 The Midwest Scholastic Rowing Association regional Championship Regatta at Kent Lake, Milford, MI , is a very historic and enjoyable regatta. Kent Lake is a 1,200-acre lake surrounded by wooded hilly terrain within Kensington Metropark. It's a fantastic venue with plenty of parking and a nice big spot for our team tents. This will be a much bigger regatta and you will get to see teams from other states.
This will be a 2 day event with accommodation on Friday 12th and Saturday 13th, and food provided by the Crew Booster Club. Details below.
White
Details below are from 2022 as a reference only. 2023 details will be posted as available.
Link to race information on Regatta Central
Link to Kathryn Bennett Race Course information
Special notes
Bus Departure:
– The bus will be leaving from the high school at 4:30pm on Friday evening.
– It is approximately a 2 hour drive to the venue.
Lodging:
– Coach Ben will be releasing the cabin assignments in the next few days along with the heat sheet for the weekend.
– This is a two day event – Saturday and Sunday. Lodging will be provided for Friday and Saturday nights.
The team and coaches will be staying in cabins located adjacent to the Kensington Metropark at Camp Dearborn.
There will be 4-6 athletes per cabin, separated by boys and girls.
Each cabin has its own bathroom facilities, 2 sets of bunk beds and another standard bed. **Bedding and mattresses are not provided – see packing list.
The Camp Dearborn facility has multiple cabins and camping sites. If you would like to reserve a site for your family, please visit https://www.campdearborn.com/
There are team coaches and several parents who will also be staying at the location as chaperones, chefs and volunteers.
On Friday night, Coach Ben's family is providing the team with a pasta dinner!
The FHE Crew Boosters are going to be providing breakfast, lunch and dinner on Saturday and breakfast on Sunday.
For those riding the bus home on Sunday, coach Ben plans to stop for lunch so please send $$ with your athlete. Cabins have fridge and microwave

Suggested packing list for Camp Dearborn (in addition to standard regatta gear):
– Sleeping bag and/or air mattress with bedding and a pillow (if you do not have these items we have several resources on the team with extras so please reach out to Stacey Ruter)
– Bath towels, wash cloths, etc.
– Toiletries – toothbrush, toothpaste, shampoo, deodorant, etc.
– Reusable water bottle
– Snacks/drinks
– Phone chargers
– Proper footwear
– Flashlight
– Games, books or activities (optional)
– Appropriate sleepwear
– Camping chair (optional) – we will have a few extras on-site
Spectators:
– If you plan on attending the event, please remember that there is a daily fee to enter the park. $10 for a day and $45 for the year.
If you follow the link below, it will take you to a google sheet with the venue information.
https://docs.google.com/spreadsheets/d/1QgtWd1KdCwLpebJs5ZIBFNK-wvai5R0rlLTRanc-Mn4/edit
For more information about which teams will be racing, please go to https://www.regattacentral.com/regatta/?job_id=7550
Race Day:
– First race on Saturday is at 8:00am.
– Some of the races we are in, will begin with time trials due to the high amount of entries.
– The top 16 from the time trials along with our boats entered in events with 16 or less will go to Semi-finals.
– The top 4 from the semis will advance to an A final.
– Some events will also include a B final.
– For most events, the top 3 boats in the A final will qualify to attend the National Championship regatta on May 27 & 28.
Bus Home:
– The bus will leave once all of our boats have concluded racing and our trailers are loaded.
– On the way home, we plan to stop at Culver's for Lunch.