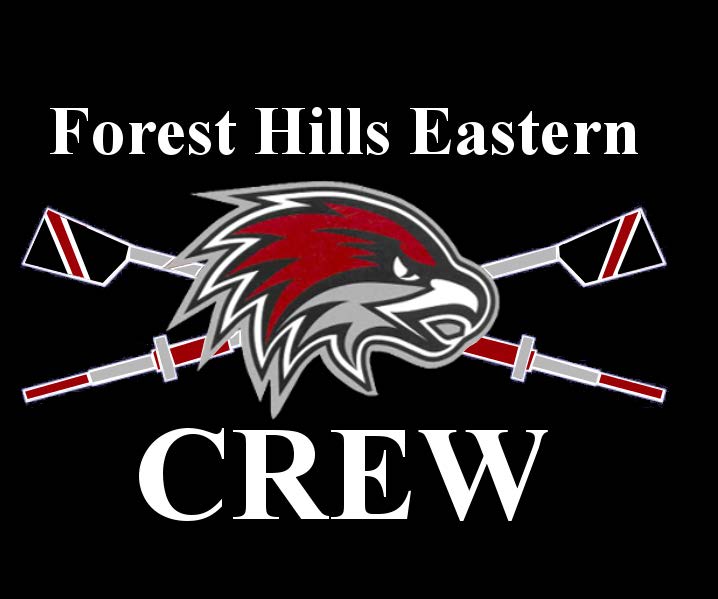 ---
Updated 3/12/2022

In 2004, Forest Hills Eastern Crew (FHE CREW) was established as a nonprofit corporation within the meaning of Section 501(c)(3) of the Internal Revenue Code to provide funds, materials, and services for the Forest Hills Eastern Rowing (FHE Rowing) team and FHE rowing programs. FHE Crew is a booster club organization, similar to a PTO, and is approved by Forest Hills Public Schools to support the FHE Rowing program and its athletes.
​FHE Rowing is a boys and girls varsity sport. It is a spring season sport at FHE. Students may earn varsity letters at the discretion of the coaching staff. Please visit the FHE High School Athletics website for information on how to register for FHE Rowing. After registration is complete, please join FHE Crew!
Requirements for membership to FHE Crew
All required forms mentioned in this Handbook can be found in REGISTRATION AND FORMS.
​Membership Fees:  Membership fees are due at the start of the season unless other arrangements have been made with the FHE Crew board. Please contact either the FHE Crew Board President or Treasurer with your request for scholarships.  The FHPS "Pay-to-Participate" fee is NOT included in this fee and that money is due to the athletic office prior to the beginning of the season.  
​"Pay-to-Participate" Fee: The participation fee is money that goes directly to the athletic office. It is required to be paid by all rowers and is due prior to the beginning of Spring practicing.
​Physical Examination: A yearly physical is required for all FHPS athletes. The physical form must be completed and submitted to the FHE Athletic Department prior to the beginning of Mandatory Practice. Physical Health forms cover all sports for the entire year provided the examination occurred later than April of the previous school year. In addition, all athletes within FHPS are required to read and sign the Concussion Information Sheet.
​Code of Conduct: All rowers and parents are required to review and sign the Rower's Code of Conduct Contract and the Athletic Code of Conduct.
​Emergency Medical Authorization: Each athlete's guardian must complete a Travel and Medical Permission Form giving permission for treatment by a physician or hospital when the Parent(s)/Guardian(s) are not available. Copies of this document will be kept with the Head Coach at all practices and regattas.
​Eligibility: All crew team members are subject to the same academic eligibility requirements and athletic code rules outlined below!
​Swim Test: An annual Mandatory swim test is given to all rowers and coxswains. It is conducted at the Forest Hills Aquatic Center. See the Mandatory Swim Test page for date and time. The test consists of: Treading Water for 5 minutes, Swim of 50 yards and putting on a life jacket while treading water. Each athlete is required to wear clothing as directed by the Head Coach. You will enter the water with your clothing on. The test measures your ability to stay afloat in the unlikely event of a capsized boat until a safety launch can get to you. It is a standard test taken by all rowing programs and should not be taken lightly. The coaching staff with work with anyone who may have trouble with test. Please bring a towel and dry clothing to change into.
​Uniforms: It is mandatory that all rowers have a race uniform. Uniforms will be available for purchase and ordering information will be provided. Uniforms consist of a racing tank and solid black spandex shorts (similar to bike shorts and a minimum of 4 inches in length) and will be worn when racing regardless of the weather unless otherwise directed by the coaching staff.
​Boat Selection for your Rower: Boat selection is a difficult process for coaches and rowers alike. Line-ups will likely change weekly and are the sole discretion of the Head Coach. In order to optimize the ability of each boat to excel, the coaches will be looking for: Attitude, Teamwork, Dedication, Consistency, Attendance, Erg Scores, Racing experience, Seat racing results, and technique. To learn more about boats and rowing terms, visit Is Crew for You?
​Coaches will provide feedback to athletes on strengths and weaknesses and make fair assessments in order to achieve the best lineups. Remember, coaches seek only to create the best possible team. While decisions may be subjective, they are not personal.
​Rowers and Coxswains are expected to work hard and follow directions. Be supportive of your team mates by accepting all coaches' decisions
​Parents are asked to respect the coaches as the final authorities on boat selection and rowing matters.
​FHE Crew Refund Policy
​The following policy has been instituted by the Forest Hills Eastern Crew Boosters Board of Directors:
​Rowers who choose to leave the team prior to the beginning of mandatory practice are entitled to a full refund. After practice begins, requests will only be granted under very limited circumstances and these refunds may not be in full. FHE Crew has financial obligations to meet regarding equipment, travel arrangements, and supplies. No refunds will be given on apparel.
Any questions not answered above may be directed to the Crew Booster Board President.
We look forward to a great Crew Season!
---