Saturday, April 22, 2023
Details below are from 2022 as a reference only. 2023 details will be posted as available.
This Regatta is held at our Home….the Forest Hills Public Schools Boathouse, located at 8400 Grand River Drive, Ada MI 49301, within McGraw Park. NO PARKING….See important info. below.
7:30 AM: ALL ROWERS MUST BE AT THE BOATHOUSE
8:30 AM: COACHES AND COXSWAIN MEETING
9:00 AM FIRST RACE BEGINS
Event Order(approx. start times)
 9:00: Mens Novice 8+ Flight 1
 9:15: Mens Novice 8+ Flight 2
 9:30: Mens Lightweight 4+
 9:45: Womens Lightweight 4+
10:00: Womens Novice 8+ Flight 1
10:15: Womens Novice 8+ Flight 2
10:30: Mens Varsity 4+
10:45: Womens Jv 8+
11:00: Mens Jv 8+
11:15: Womens Varsity 4+
11:30: Mens Novice 8+ Flight 3
11:45: Mens Novice 8+ Flight 4
12:00: Mens Jv 4+
12:15: Womens Jv 4+
12:30: Womens Novice 8+ Flight 3
12:45: Womens Novice 8+ Flight 4
 1:00: Mens Varsity 8+
 1:15: Womens Varsity 8+
  
Parking
– FHN asks that you drop your athletes off at the boathouse gate and have them walk down the road to the boathouse.
– All parents are to park at Ada Elementary, 731 Ada Drive SE, Ada MI 49301.
– There will be a shuttle bus to take you from the elementary school to the boathouse. The shuttle begins operation at 6:45am.
– If you have a handicap permit, you will be allowed to park at the boathouse, just show your pass to the parking attendants.
– Please Do not park along Grand River Drive. You will get ticketed and towed. Parking at Ada Park is not encouraged.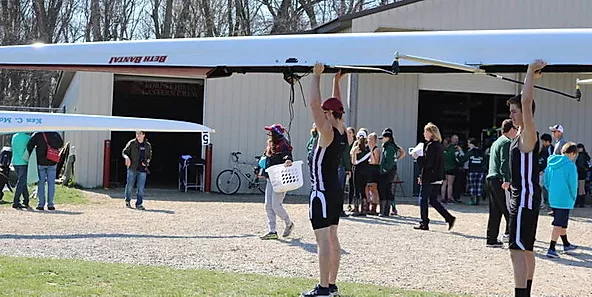 PLEASE DO NOT PARK ON GRAND RIVER DRIVE
THERE IS NO PARKING AT THE BOATHOUSE.
We're going to have over 300 athletes alone competing at this event. Add in families, coaches, volunteers and team supporters we could have close to 1000 people at the boathouse this weekend. Unfortunately we don't have the space available to let everyone park at the boathouse, stage the event, and still keep the access road open for emergency purposes.
Race Course: Same as what we've had in the past. The course is about 1000 meters long and is four lanes wide. The course goes against the current and finishes at the Forest Hills Boathouse. There is a paved trail that follows the course.
5 WAYS TO PARK:
We've come up with 5 different scenarios to get everyone safely to the boathouse and still allow us to stage the event: