Saturday, April 17, 2021
This information is tentative. A final update will be posted as soon as it is received.
Participating Crews from these Schools:
Forest Hills Central
Forest Hills Northern
Forest Hills Eastern
This Regatta is held at our Home….the Forest Hills Public Schools Boathouse, located at 8400 Grand River Drive, Ada MI 49301. NO PARKING….See important info below.
Schedule:
7:45 AM: ALL ROWERS MUST BE AT THE BOATHOUSE
8:30 AM: COACHES AND COXSWAIN MEETING
9:00 AM FIRST RACE BEGINS
With the restrictions and rules that we are under right now please be aware of the following changes to this year's Belted Galloway Regatta. Please reach out to Head Coaches for questions or clarifications.
1. Attendance – Due to COVID-19 precautions spectators will not be allowed at this year's event.
2. Athletes, coaches, and volunteers must wear masks and stay six feet apart throughout the event (following social distance guidelines).
3. Dropping your athlete off – Please drop your athlete off at the entrance to the park near the railroad tracks. Please follow all directions provided by parking attendants. Athletes cannot park near boat house.
4. There will be no parking available for participants or spectators at the boat house. Parking is only available for coaches and volunteers.
5. Parking for coaches and volunteers is very limited. Only 5 spots available for each visiting team.
6. Do not park along Grand River Drive. You will get ticketed and towed. Parking at Ada Park is not encouraged.
7. Teams are allowed one food tent abiding by all CDC Guidelines.

8. All food should be pre-packaged and safely served to the athletes with tongs or gloves. Note: There will be no grilling allowed. It is recommended each athlete
Medals/Entry Fees: We typically have medals for the top 2 placing crews in the 16 events on the schedule. Medals are usually awarded at the end of the regatta.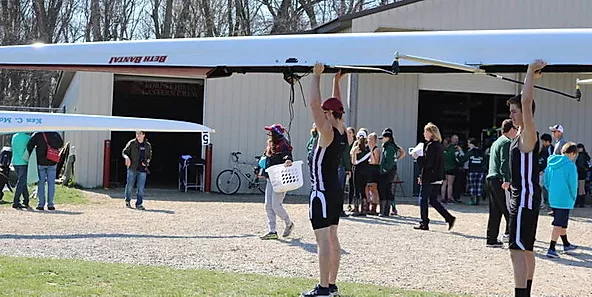 Getting Here:
DO NOT PARK ON GRAND RIVER DRIVE
THERE IS NO PARKING AT THE BOATHOUSE.
We're going to have over 300 athletes alone competing at this event. You add in families, coaches, volunteers and team supporters we could have close to 1000 people at the boathouse this weekend. Unfortunately we don't have the space available to let everyone park at the boathouse, stage the event, and still keep the access road open for emergency purposes.
It is imperative that nobody parks on Grand River Drive, which is the main road before you get to the boathouse entrance. Cascade township has huge safety concerns regarding having cars parked on Grand River Drive. They've threatened to stop the event if we don't comply. Please use one of the above methods to get to the boathouse. If you're having problems getting to the boathouse please call the boathouse at 682-9286 and someone will help you. The boathouse is located at 8400 Grand River Drive, Ada MI 49301. The boathouse is located within McGraw Park.
Race Course: Same as what we've had in the past. The course is about 1000 meters long and is four lanes wide. The course goes against the current and finishes at the Forest Hills Boathouse. There is a paved trail that follows the course.
Please see the COVID-season specific directives above regarding parking. The information below is what happens in a typical season at the Belted Galloway and does not apply to Spring 2021 season.
5 WAYS TO PARK:
We've come up with 5 different scenarios to get everyone safely to the boathouse and still allow us to stage the event:
Parking pass. Each team is being allowed an allotment of 10 parking passes for parents and supporters to use. If you have one of these passes you'll be allowed to park somewhere in the boathouse vicinity.

Handicap permit. Please just show the parking guards your permit, and you'll be allowed to park near the boathouse.

Park & Walk. Ada Park is not far away, and there's a nice paved walking path that passes Ada Moorings Subdivision, and shadows the course that we'll be rowing on this weekend, and ends at our boathouse.

Drop Off. We'll allow a drop off area just inside the entrance to McGraw Park/The boathouse drive. There's a small turn around just inside the gate where you can turn around after dropping off your athlete. NOTE: In order to keep traffic flowing we WILL NOT be allowing drop off next to the boathouse, the walk from the entrance of the park to the boathouse is only about 200 yards.

Shuttle Bus. The shuttle bus will be the main transportation.